Real Football
1.7.0
An Exciting and Complete Football Game
Football is the most popular and widely followed sport in the world. The fact that it has a shorter time span, is all out action and has an intensity that few sports can match provide it the edge over many other. Football fans obviously not just want to watch the matches or physically play the sport, they also want to consume its content on every other platform. This is the reason that football video games are extremely popular. Some of the more high-fi games are slightly difficult to run on phones due to their high tech requirements and this is where more intelligently developed games that don't want huge processors and RAMs become the better option. Real Football is a solid football game that has great gameplay and multiple gaming options and these make it a great game for all football fans.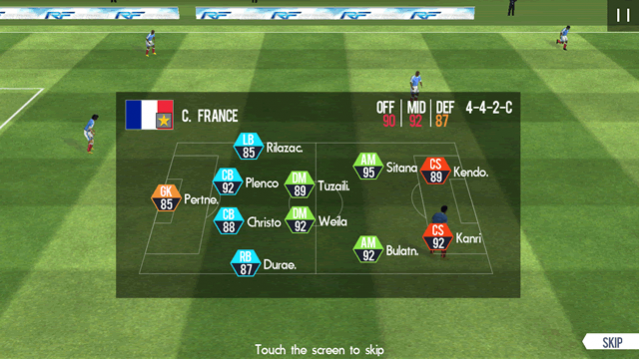 Real Football starts with a quick tutorial in order to introduce you to the various aspects of the game. You start directly with a match where you are showed the controls and how to use them. A 90-minute game usually takes two to three minutes and you get a good idea in the friendly game about how to pass, shoot and tackle. While you won't learn all the controls in the tutorial, you would get a fair idea about how the gameplay works. You are then introduced to the managerial aspect of the game where you can unlock players, tactics and training routines so as to help your squad overall. The tutorial is great because it provides a quick guide on how everything works and even though it's a bit rushed, it still serves the purpose.
The football game has a great managerial side to it. Normally, you get one of the two in most games. You would either get detailed oriented match play in the game or get great management detail. Real Football ensures that you get the best of both worlds. You can change players, adjust formations and decide your tactics. You can also buy new players to improve your squad while you can also set training schedules in order to improve the players you have as well. Everything requires in-game currency and therefore, you must be careful about where you spend the cash.
There are multiple gaming modes available in the football game as well. There is the standard league format where you play against AI teams for the title. There is also the option of challenging friends or playing online in a PvP format. Friendly matches are also available that serve as practice games where you can learn how to control the players. In the standard league games, you can decide on whether you want to play the actual game or simulate the game with the simulation results depending on how your team matches up against the opponents. So, overall, the options are aplenty and therefore, you won't really bored too quick.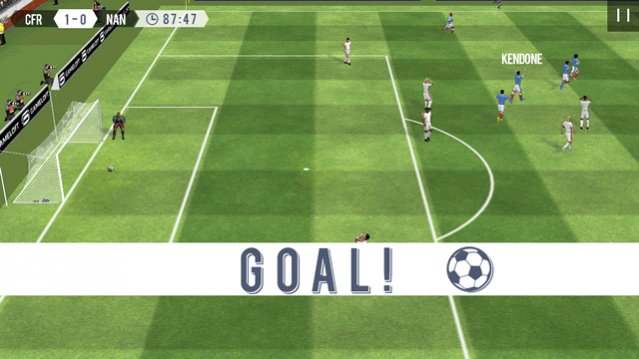 The actual gameplay is very slick with the movement of players and their capabilities all very well-defined. Obviously, the game's graphics are no match for some of the high-end games and the graphics do look caricature-ish but they still are good enough to ensure that you feel like you are a football game. The controls are great with different options for when you have the ball and different options for when you don't have the ball. The controls are similar to what you get with other games and therefore, getting accustomed to them shouldn't be that big of a problem.
Features:
Easy to learn with a great starting tutorial
Expansive controls that are split tactically across the screen
Great gameplay with defending and attacking options aplenty
Nice football management tools to create your team and manage their training and tactics
Multiple gaming modes including multiplayer online gaming
Conclusion:
Real Football is a fantastic football game that offers great gameplay. With exciting management tools, online gameplay and great controls, the game is a great option for all football fans!
RELATED PROGRAMS
Our Recommendations
---
---
---
---